Earn your master's
degree in education
at Grand Canyon
University
GCU ONLINE DEGREES
Choose from over 200 majors and concentrations
Explore our accredited bachelor's, master's and doctoral programs
Become an effective educator and help shape tomorrow's future
MASTER'S PROGRAMS IN EDUCATION
As an educator, you understand the importance of a quality education and the role it plays in students' lives. Choosing one of Grand Canyon University's master's degrees in education can advance your journey toward teaching licensure, and affords you the firm foundation needed to shape tomorrow's future.
Choose from specializations in:
Early Childhood
Elementary
Secondary
Math and STEM
English and Reading
TESOL
Special Education
Education Administration
A world-class university committed to helping you achieve your goals
The GCU Difference
Since 1949, Grand Canyon University has been a premier university helping students find their purpose and pursue the career of their dreams.
Here's what sets GCU apart:
Academic Excellence – For more than 70 years, GCU has been offering quality academic programs that provide the skills and credentials needed for career success.
Affordability – GCU offers a competitive, affordable online tuition rate and numerous financing options, including scholarships for academic achievement.
Earlier Graduation – Our 4-credit programs allow you to complete your degree program in less time.
Dynamic Learning Environment – GCU's online classroom ensures students are engaged and learning with each course designed to promote maximum collaboration.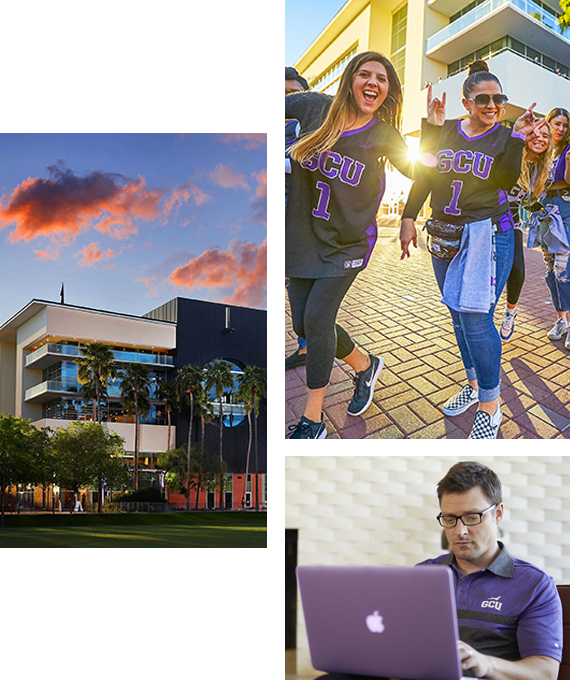 Get a quality education that's accessible no matter where you are
Online and On Campus
Backed by the legacy of our traditional campus, GCU is a regionally accredited university that stands out from other online institutions. Whether you choose to study online or at our vibrant Phoenix campus, GCU wants to make your education flexible and convenient so you can learn on your schedule.
Graduate faster when you get credit for what you've already learned
Transferring Credits
Transfer College Credits
GCU generally accepts courses from accredited institutions. Whether you attended a community college or a university, we make it easy to submit your transcripts and find out how many previous credits will count toward your degree.
Lifelong Learning Assessment (LLA)
If you've worked in the field or industry of your degree path, GCU's Lifelong Assessment (LLA) allows qualified students to earn up to eight general education or elective credits based on previous work and life experiences.
National Exams
National exams such as the College-Level Examination Program (CLEP) offer a great way for you to get credits for what you know. You can earn up to 30 GCU transfer credits toward your bachelor's degree through these tests.
Certificates and Credit Evaluations
Qualifying certificates and credit evaluations such as the American Council on Education's College Credit Recommendation Service (CREDIT®) allow you to gain credits for your professional learning experiences. Turn your previous work experience including military training into potential college credits.
Get started when you're ready
Admissions at GCU
All students must submit either acceptable high school or college transcripts to be considered for full admission into the University. If students cannot meet the GPA requirements with their transcripts but have test scores or a college-GPA that meets admission requirements, students may be eligible for full admission.
Next Start Date

Monday

June

5

Next Start Date

Thursday

June

8
Grand Canyon University is accredited by the Higher Learning Commission, an institutional accreditation agency recognized by the U.S. Department of Education. The Higher Learning Commission was established in 1895 as an accreditor of post-secondary degree granting institutions in the North Central region, totaling 19 states. The HLC and its predecessor have accredited GCU continually since 1968.